Biggest and Contemporary Home Improvement & Lifestyle Furniture Showroom In Coimbatore District
Lakshmis Home Style a contemporary home improvement & Trendy Furniture showroom in Coimbatore District is a part of Lakshmi Ceramics -Asia's Biggest Tile Showroom.
More about us
Lakshmis Home Style is a newer dimension of the most reputed
Lakshmi Ceramics a symbol of quality and fortune that won over million's of consumer's goodwill.
Lakshmis Home Style is all set to add style and happiness to your beautiful home and life.
Lakshmis Home Style is an exclusive showroom for contemporary & stylish imported and indigenous furniture and rare home décor articles.
Mission Statement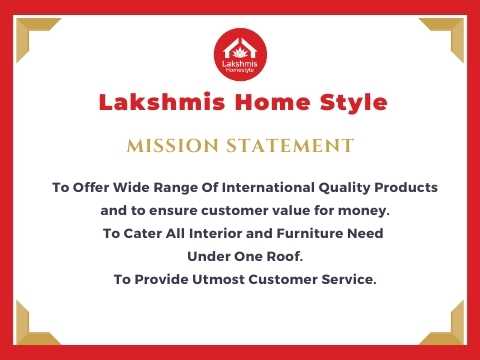 What Our Customer Says!
Best designs
Good service
Meenakshi Sundar
2023-08-10
The overall service was very good. Our installer srinivasan helped very well. Thanks and will purchase more in the future.
hema narayanaswamy
2023-08-09
Good product
Service and it was good by puran singh