Biggest and Contemporary Home Improvement & Lifestyle Furniture Showroom In Coimbatore District
Lakshmis Home Style a contemporary home improvement & Trendy Furniture showroom in Coimbatore District is a part of Lakshmi Ceramics -Asia's Biggest Tile Showroom.
More about us
Lakshmis Home Style is a newer dimension of the most reputed
Lakshmi Ceramics a symbol of quality and fortune that won over million's of consumer's goodwill.
Lakshmis Home Style is all set to add style and happiness to your beautiful home and life.
Lakshmis Home Style is an exclusive showroom for contemporary & stylish imported and indigenous furniture and rare home décor articles.
Mission Statement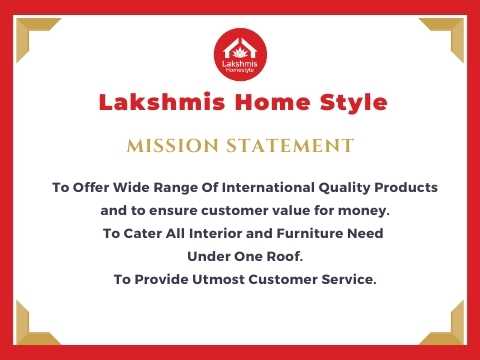 What Our Customer Says!
Dinesh Muthiah
1 March 2023
We bought certain furnitures from Lakshmis Homestyle. Great collection and very helpful staffs in explaining the product. Srinivasan & Pooran Singh who came for installation was very cooperative in installing the furniture's. Strongly recommend this store & also the great people.
muthukumarappan M
1 March 2023
Nice experience in buying a product from Lakshmi home style. Cost also reasonable. Service person did his work sincerely and to our satisfaction.
Arun Subramaniyam
27 February 2023
Bought a dressing table from Lakshmi homestyle. The quality of the product was really good and also prompt installation by Puran Singh. Very professional.
Srinivasan R
24 February 2023
The service was very good and excellent by Srinivasan and pooran singh
Prakash Kumar
18 February 2023
Bought a sofa set with lakshmi home style and the quality is very good. Expecting a ggod service also in future
Madhu Chakkaravarthy
18 February 2023
Bought Brooklyn corner sofa and office chair at Lakshmis home style. Both the sales executive (didnt ask for name) and Delivery person Srinivasan was kind enough to satisfy my needs. Indeed they had good collection of furnitures and home decor products.
Poomal Savadaiah
10 February 2023
Really very very good service after 7 years i apriceate your service, valga valamudan👏👏👏👍👍👍🙏
mohammad vasif
10 February 2023
Decent quality and nice range of furniture collection. Timely delivery and top notch installation by the team.