Biggest and Contemporary Home Improvement & Lifestyle Furniture Showroom In Coimbatore District
Lakshmis Home Style a contemporary home improvement & Trendy Furniture showroom in Coimbatore District is a part of Lakshmi Ceramics -Asia's Biggest Tile Showroom.
More about us
Lakshmis Home Style is a newer dimension of the most reputed
Lakshmi Ceramics a symbol of quality and fortune that won over million's of consumer's goodwill.
Lakshmis Home Style is all set to add style and happiness to your beautiful home and life.
Lakshmis Home Style is an exclusive showroom for contemporary & stylish imported and indigenous furniture and rare home décor articles.
Mission Statement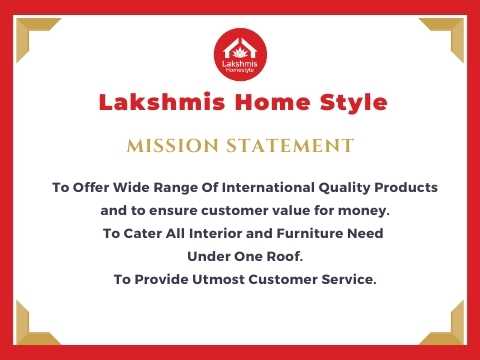 What Our Customer Says!
Again iam buying one sofa set in Lakshmi Home Style. Iam really very happy to Buying this its very excellent quality and good looking. And Mr. Srinivasan service did a brilliant job and he is calling after 2days he asking everything is ok sir or any issues if anything you can call me anytime he saying. Iam really proud of him Thank you so much Mr. Srinivasan. In that store all staffs are friendly person. And special mention about poornaghugan. Thanks Lakshmi home style team.
Dr. LEO DEV WINS K 191
2022-11-17
Very good collections with nominal price. Experienced staff to explain the important features of the items. Ready to replace the items if any defect is found during assembly.
Good Collections and reasonable
Good experience.....received a wonderful product
Good quality furniture in affordable price range. Delivery service is excellent. Puran singh and his team did a good job delivering the furniture on time.
Bought a dressing table from the place. Got it delivered promptly and had zero hassle. Mr. Pooran singh was very helpful and assembled the product really fast and with no damage. Happy with the purchase.
Iyer Parasuram
2022-11-14
Excellent service and client friendy staffs
Excellent quality of combo sets I bought (Cot, wardrobe and dressing table). Good designs Great service- Both before Sales and After sales. Srinivasan and Puran singh from Service did a brilliant job. All staffs is an extremely sincere and friendly person. Even after sales, Special mention about Poornaghugan.Thanks Lakshmi home Style team